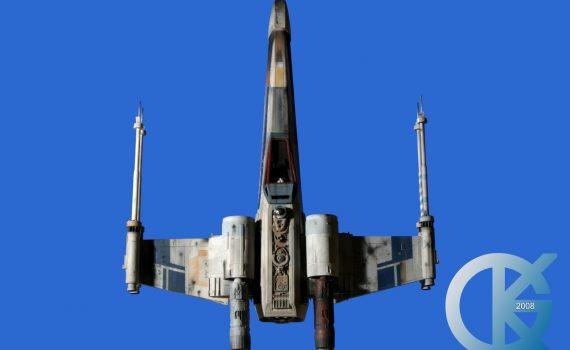 This beautiful piece was built from a cast kit that has original lineage back to the PYRO Models used in 1977's STAR WARS. Cast obtained from Scott Alexander of Atomic City Models, this piece originally began life as a closed wing version of RED Leader, painted by Scott Alexander himself. I had not seen any closed wing X-Wings made before this time… though there may have been some somewhere. Sadly, Red Leader had a bit of an accident, and then was sent to artist R.L. Bleecker to re-build. Robert took this closed wing X-Wing and made it amazing as he changed the red stripes to blue… just as the original models began life as. We had yet to see anything past Red 6 in wing identification, so Robert came up with what you see here… a solid block to indicate up to 6, plus a single strip to make it Blue 7. Again, nobody had done anything past Red 6 at that time, which made this highly unique. Then there was the fact he made the stripes blue… which again nobody had been doing at that time. Soon after we found some photos of the Red 12 studio model, and it's markings. Robert also made the R2 unit have a clear dome, with a Pilot at it's stick that could possibly be Lando Calrissian? It is for you to decide!
Fantastic work all the way around. It was a blast to photograph back then (2008). Never the less… this stands on it's own as a great display.
I would like to thank both Scott Alexander and Robert Bleecker for their excellence in bringing this to life. Especially R.L. Bleecker for his great imaginative skills.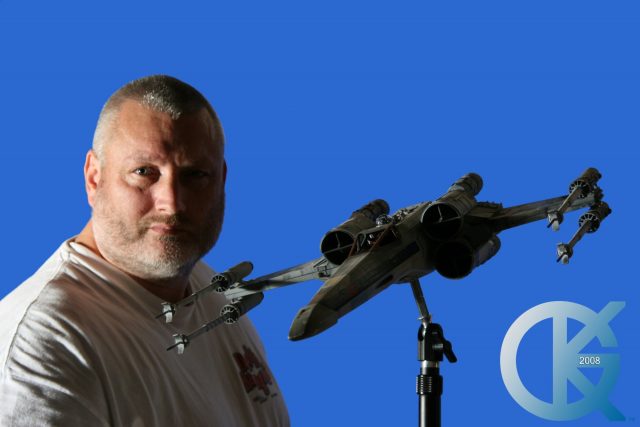 Above: Kurt Kuhn with the Studio Scale BLUE 7 X-Wing
Model Information
Current Owner: Kurt Kuhn of Kuhn Global, Inc.
Build Artist: Re-Build by R.L. Bleecker
Cast Offered By: Atomic City Models
~Hours Vested to Final Display:  250
Total Vested Cost: $1,000 USD
Current Estimated Value: $2,000 USD
Current Appraised Value: $2,000 USD