The Black T-70 X-Wing turned out fantastic by artist Dan Grumeretz. To my knowledge, this is the world's first 1/24 build to be completed and shown publicly. It was a pleasure to photograph, and now resides in the collection here for all to view.
This began life a few years ago with a Pattern being made by Artist Richard Long. A few years later Richard sold me the incomplete Patterns of which I in turn, gave them to the owner of KORBANTH Sabers Props & Models (Randy Johnson) to finish and create a kit from, that all may enjoy this model. Randy gave them to one of his Kit Makers, artist Mark Worley, and it was Mark that finished the pattern, adding details to it before making molds of it to cast kits from. Eventually the first kit came out of those molds. Because I purchased the patterns originally, I received cast numbers 1, 2 & 3 of this fine kit. What you see here is number 1 that I asked artist Dan Grumeretz to turn into Poe Dameron's BLACK X-Wing Fighter. In the film "The Last Jedi" there was an addition to the rear of the X-Wing added…. a TURBO Booster Engine. Both Mark and Dan went to work to produce this excellent add on that we made interchangeable with the original by adding magnets to the part.
A beautiful job by all. I wish to thank Richard Long, Randy Johnson, Mark Worley, and Dan Grumeretz for helping bring this kit to life, and the public.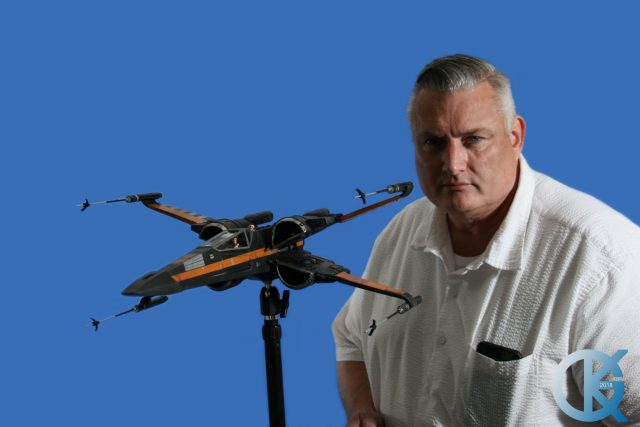 Above: Kurt Kuhn with the 1/24 Poe Dameron "Black" T-70 X-Wing
Model Information
Current Owner: Kurt Kuhn of Kuhn Global, Inc.
Build Artist: Dan Grumeretz of Grumeretz, LLC
Kit Offered By: Korbanth Sabers, Models & Props
Kit Pattern Work: Richard Long & Mark Worley
~Hours Vested to Final Display:  250
Total Vested Cost: $2,200 USD
Current Estimated Value: $2,500 USD
Current Appraised Value: $2,500 USD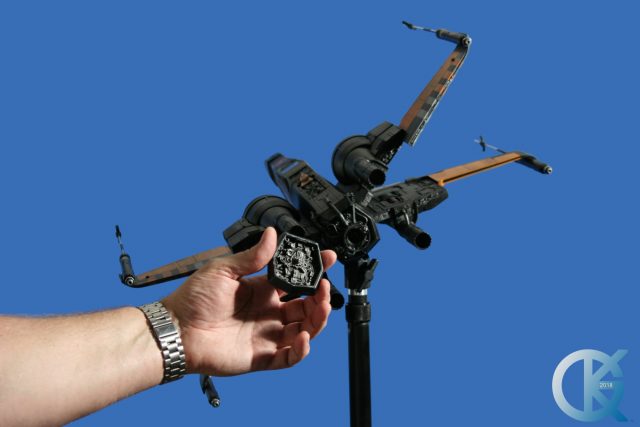 Built to display with either The Last Jedi Booster Engine, or the original The Force Awakens look.