May 26, 2016
Week 002 – Day 007
WEIGH-IN!!!

I LOST 28.6 POUNDS!!
Today is HUGE day for all of us, as it is the first week actually on the program that we may see the weight loss result. As I stated yesterday, my anticipation is great, and I hope I am not expecting too much in my heart. I know how hard this week has been, being bombarded with food suggestion, and remaining strong in conviction to myself in this program. My legs are finally looking better. I have been elevating them at night, which is kind of difficult to sleep with. I took sleep aids last night and it was not as bad. The wraps seem to be helping, and certainly elevating is. The leg with the ulcer really hurt after I came home from the Nurses changing the wraps. I think my leg is battling to get better. All that reported, I must say, regardless of any weight loss, my body is feeling better. I don't feel like death any longer, only challenged. I feel lighter and I am able to move about better. Below are photos Melanie took of me this morning…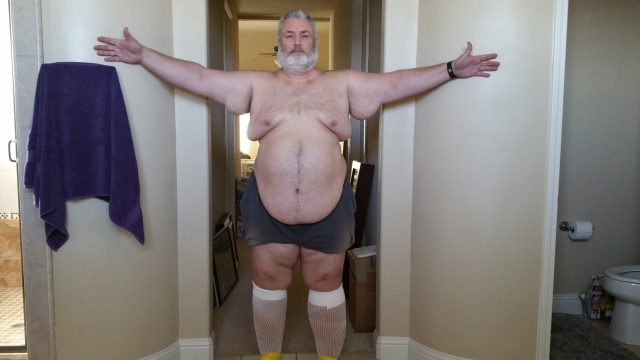 Today's FitBit Stats:
4266 Steps for 1.99 Miles and 3506. 9 Floors Climbed.
Last Night's Sleep Recorded This Morning:
7 hour 35 min. Asleep last night, Awake X3, Restless X21
Food Schedule:
10AM – Vanilla Shake & 8 oz glass of water with Orange Fiber
12PM – Vanilla Shake
2PM – 1 Cinnamon Protein Bar & 8 oz glass of water with Orange Fiber
4PM – Vanilla Shake
6PM Chocolate Shake – During Weight Management Class
8PM – 1 packet Tomato Soup in 8 oz Water & 8 oz glass of water with Orange Fiber
Calorie Intake for the day = 970