May 20, 2016
Week 002 – Day 001
Melanie and Mine 16th Wedding Anniversary!!
412.00 Lbs at the Doctors Office. Blood Pressure now normal.
FOOD PLAN BEGINS!!
I went to the doctor today. He raised my Bumetanide back up to a full pill per day, allowing for the water to leave my system. This he believes is the cause for the open sore. He prescribed Cephalexin, and had my legs wrapped in what they call a "boot". I will be going back Wednesday to change the dressings. My legs are HUGE! Like Elephant legs! It is quite painful… and depressing to view. This will change as I lose weight.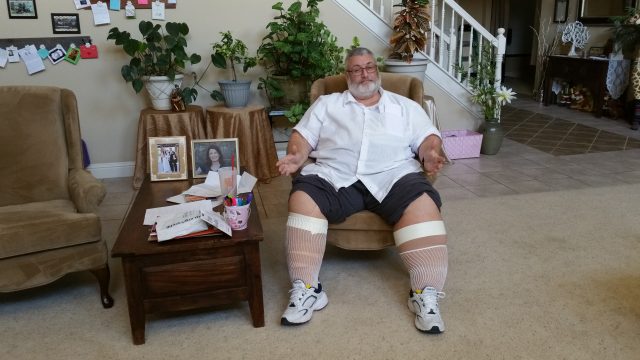 I began the food (rather liquid) intake today. The shakes, protein bar and soup are quite good, but I am finding myself wanting more. Not because I am hungry, but because I conditioned myself to be that way. I expect to be eating while watching our television programs. Never a good thing. Anyway.. here is my food intake for today…
10AM – Vanilla Shake & 8 oz glass of water with Orange Fiber
12PM – Chocolate Shake with crushed ice (not good)
2PM – 1 Cinnamon Nut Protein Bar & 8 oz glass of water with Orange Fiber
4PM – Vanilla Shake
6PM 1 packet Tomato Soup in 8 oz Water & 8 oz glass of water with Orange Fiber
8PM – Chocolate Shake mixed with 16oz shaved blended ice and one 12oz can of Coke Zero (Excellent!)
Melanie kept me strong through this day. Going as far as writing notes on my bathroom mirror that "I have this", and that "she loves me". I am very blessed to have her in my life. I am finding it is vitally important to have support form those who live with you, not to mention everyone else.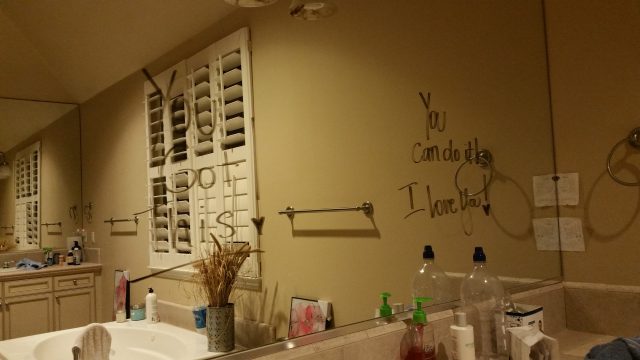 Today's FitBit Stats:
4,513 Steps for 2.1 Miles and 3,388 Calories burned. 7 Floors Climbed.